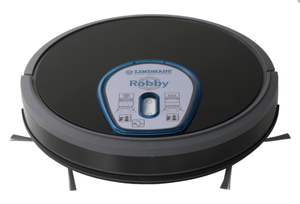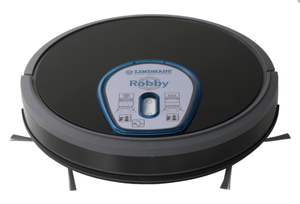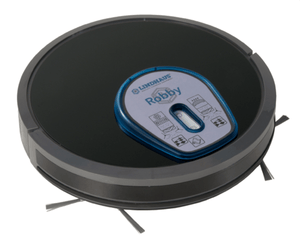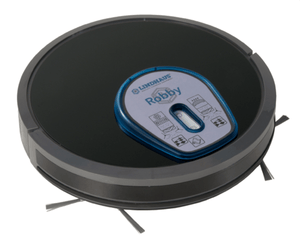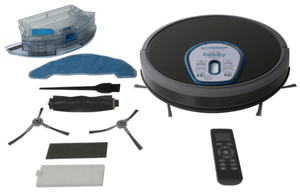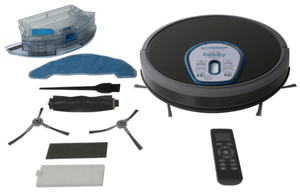 On Sale
Lindhaus Robby Robot Vacuum Cleaner
Lindhaus presents The 'Robby' robotic vacuum cleaner.
Working time of up to 120 minutes
Operates with 6 independent motors
Climbing height of 1.5cm
Intelligent fall detection and obstacle evasion
Very low profile at only 8cm
Ultra silent operation (54dB A)
3 stage filtration system with HEPA
Effectively cleans corners and along perimeters
Safety LED lighting
Remote control included for manual operation
Programmable timer
It goes everywhere
Robby is only 8 cm tall and passes easily under the beds and low furniture.
Its long side bristles perfectly clean corners and along the wall.
Remote control
All the functions are selected from the remote control, the switching
ON and OFF times are programmed and, thanks to the quick choice
menu, different paths and types of cleaning can be done with a
simple click.
Cleaning system mechanical + suction
The side brushes collect dust and debris by conveying them to the
center where the roller collects in the dust bin. Above the dust bin,
there are 3 filters with the final Hepa filter. The digital motor sucks
after the Hepa filter. In this way, the machine sweeps, sucks and
retains dust.
Charging station
When Robby has a low battery with a residual of 20%, automatically
turns off the suction motor and the roller / brush motor and returns
to the charging station.
Maintenance without tools
Emptying the dust bin is simple and requires no tools, as well as
access to all filters. The removal of the roller cover, the roller itself,
and the side brushes do not require tools.
 

Ref: LL192410381